February 23rd, 2022 • 13:02
Imagine you donated to some conservative causes, some conservative candidates. You have probably left some pro-America comments on-line, including some criticism of "president*" Biden or his administration.
Now imagine you take a summer trip up to Canada. You know, hang out at a remote lake with your friends, catch walleye, pike, bass, and maybe lake trout. Eat well, relax under the stars, and recharge your battery. You have done it off and on for twenty years and you are on a first-name basis with the lodge owner or outfitter who gets you tucked in after you cross the Canadian border.
Only now, something has changed, this week. This is not imagination, it is real. Canada's prime minister Justin Trudeau just declared martial law, and his administration is already seizing the private bank accounts, pets, vehicles, passports, etc. of Canadian citizens. These people being victimized by their own formerly democratic government are not lawbreakers. They didn't set fire to anything, they didn't vandalize anything, they just protested peacefully or donated to lawful organizations that organize democratically to oppose Trudeau.
But now under Trudeau's martial law, the rule of law is suspended. There are no objective standards with which law enforcement officers (who have been caught texting their enjoyment of brutalizing peaceful protestors in Ottawa) conduct themselves. Worse, the Trudeau government has a political enemies list of not just Canadians, but also Americans. And they are probably borrowing from the Biden gang's enemy list, too.
So imagine you arrive in June at the Canadian border to set out on your annual fishing trip, and the next thing you know, you are being handcuffed and spirited away to some remote Canadian prison. You have not been charged with any crime, and because Canada is now under martial law, you have no due process rights. None. You ask to call your family to tell them where you are, and that is declined. Because you are either a political enemy of Biden or Trudeau, you are now completely screwed, because the Biden Administration is not going to weigh in to help out you, their citizen.
Nope, the Biden Administration is going to thank Trudeau for locking up their political enemies for them. And God only knows where you will be in a month or a year.
This is where we stand right now. By all indications, Canada is America's new gulag, where political prisoners will be either sent or caught at the border and stored out of sight and out of reach. Zero civil liberties and zero human rights.
If I were an American who had exercised any of our constitutional rights here on American soil in the past two years, I would not step foot anywhere near the Canadian border. I would stay far away from Canada. Because it is probably a trap that will destroy your life. Treat Canada like a dangerous No-Go Zone (and the same can be said for Washington, DC, and many lawless leftist cities around America, where conservatives have zero civil rights or even human rights).
All around the world democracy is suddenly under assault, from within the democratic countries, not from without. New Zealand, Australia, Europe, Canada, and America are all being attacked by anti-democracy forces from within our own governments. Why this lawlessness is happening all at once is anyone's guess. It certainly does appear to be coordinated, and all of these inside-job political hijackers are ruthless.
Unless you are an illegal alien from some other country…who might prove useful in displacing and oppressing the native people here in America, or Canada…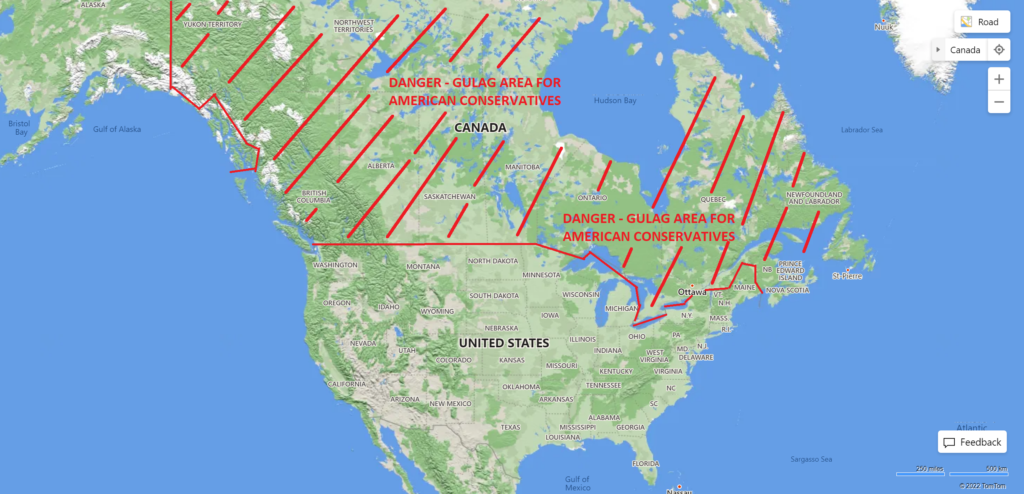 Leave a Reply
You must be logged in to post a comment.